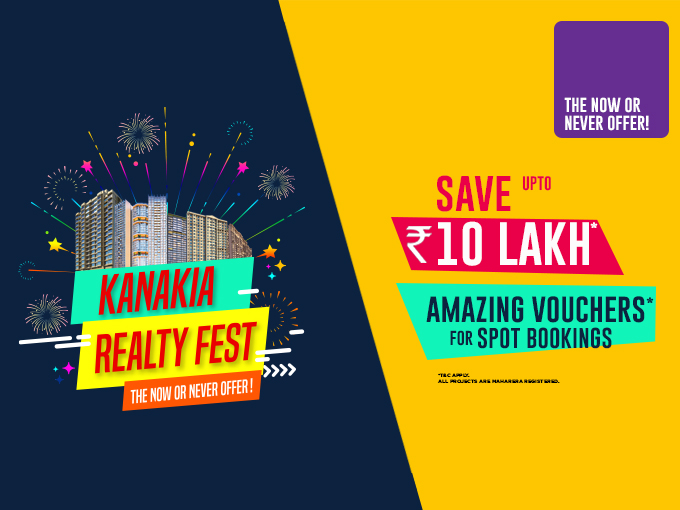 Kanakia Realty Fest 2019
If you're looking to buy a home, there are many factors that will affect your decisions. From location and space to amenities and proximity to essentials, Kanakia Spaces satisfies every single point on that checklist.
Coupled with green initiatives, Kanakia Spaces offer a uniquely luxurious home with an eco-friendly design. Each Space is planned to offer only the best amenities, and prime locations are selected which are close to schools, stores, and entertainment outlets.
Kanakia Spaces is renowned for its theme-based projects and each space offers a unique experience. From the Japanese themed Kanakia Zen world to Kanakia Paris featuring its own Eiffel Tower! But, when is the best time to buy a home? Is it during the festive seasons or when you have enough savings?
This year, the game changes. Kanakia, the brand YOU trust which has delivered 14.6 million sq. ft. of commercial, residential, entertainment, education and industrial spaces bring to you a Realty Fest like never seen before – the Kanakia Realty Fest!
You can tour the world, buy a home and yet get the best rates in the market at the Kanakia Realty Fest! This one-of-a-kind fest featuring Kanakia Group's finest Spaces at never before seen prices.
The Kanakia Realty Fest gives home buyers an exclusive opportunity to buy their dream homes at the best rates with special offers that are exclusive to the Realty Fest! But that's not all! Kanakia Realty Fest features offers on the following Kanakia Projects : Kanakia Sevens, Kanakia Rainforest, Kanakia Paris, Kanakia Zen World, Kanakia Codename Future, Kanakia Miami and Kanakia Hollywood.
7 Premium Projects at 6 Premium Locations are now available only at Kanakia Realty Fest!
You can stand a chance to save up to INR 10 Lakhs* and amazing Vouchers* on spot bookings.
This festive season, log on to the Kanakia Realty Fest and book your dream home now .
For enquires, log on to http://kanakiarealtyfest.com/
*T&C Apply